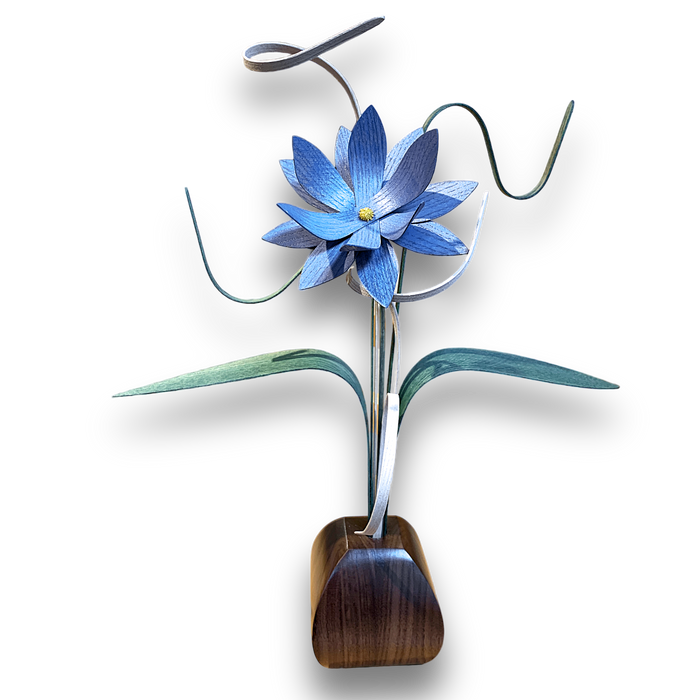 Blue Lotus Wood Flower Arrangement in Black Walnut Vase
Original price
$78.95
-
Original price
$78.95
Introducing our Blue Lotus Wood Flower in an attractive Black Walnut Vase, a captivating piece of art that stands at 15 inches in height, 14 inches in width, and 8 inches in depth. This exquisite arrangement is a stunning representation showcases the craftsmanship and expert representation of the Minnesota wild lotus flower.
Each delicate element is meticulously handcrafted from oak wood, which is soaked in water and then expertly manipulated to form the intricate flowers, grass and leaves. The floral arrangement is shipped exactly as displayed, requiring no assembly unless you have specific requests.
Bring the timeless beauty of nature into your home with this elegant piece, perfect for adding a touch of color and artistry to any space.
PRODUCT DETAILS:
15" x 14" x 8"




Real Oak Wood Veneer (flowers, leaves & grass)

Solid Black walnut (vase)
Everlasting flowers will not fade
Handmade in the USA
Our elegant handmade single wood flower arrangement will never fade. Order now to bring everlasting beauty into your space!