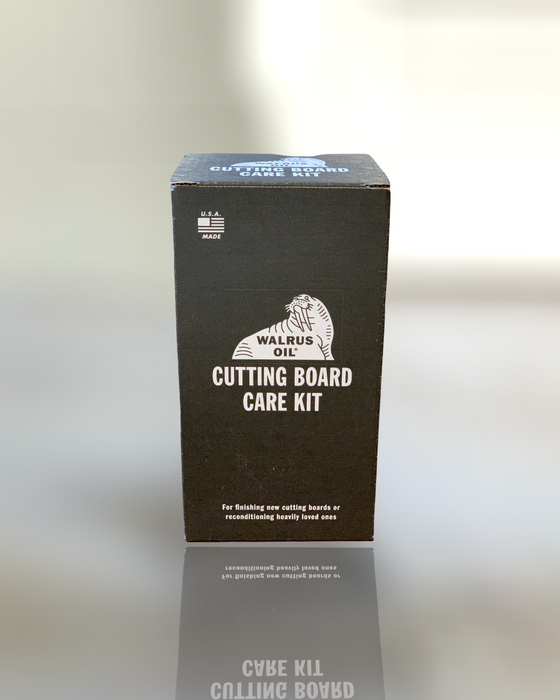 Walrus Oil Cutting Board Care Kit - Complete Care for Your Cutting Board
Original price
$33.00
-
Original price
$33.00
Give your cutting board the love and care it deserves with the Boxed Walrus Oil Cutting Board Care Kit. This all-inclusive kit includes an 8.0 oz. bottle of Walrus Oil, as well as a 3 ounce can of Wood Wax, specially formulated with a blend of nourishing coconut oil, beeswax, pure mineral oil, and vitamin E. The kit also includes a high-quality buffing rag for easy application.
Walrus Oil is rapidly gaining traction as the go-to solution for cutting board care. Its unique formulation penetrates deep into the wood, replenishing moisture and protecting against drying, cracking, and warping. With regular use, your cutting board will maintain its natural beauty and longevity.
Not only does this cutting board care kit provide exceptional performance, but it also prioritizes safety. Walrus Oil is 100% food safe, ensuring that no harmful substances come into contact with your food during preparation. The included instructions make it easy to achieve optimal results, even for first-time users.
By choosing the Boxed Walrus Oil Cutting Board Care Kit, you're not only taking care of your cutting board but also supporting a worthy cause. Walrus Oil is an official partner of the National Forest Foundation, contributing to reforestation efforts across the country. Take pride in your cutting board care routine while making a positive impact on our environment.
Invest in the ultimate care for your cutting board with the Boxed Walrus Oil Cutting Board Care Kit. Experience the difference of premium quality ingredients and a brand trusted by professionals and home cooks alike. Preserve the beauty and functionality of your cutting board for years to come.