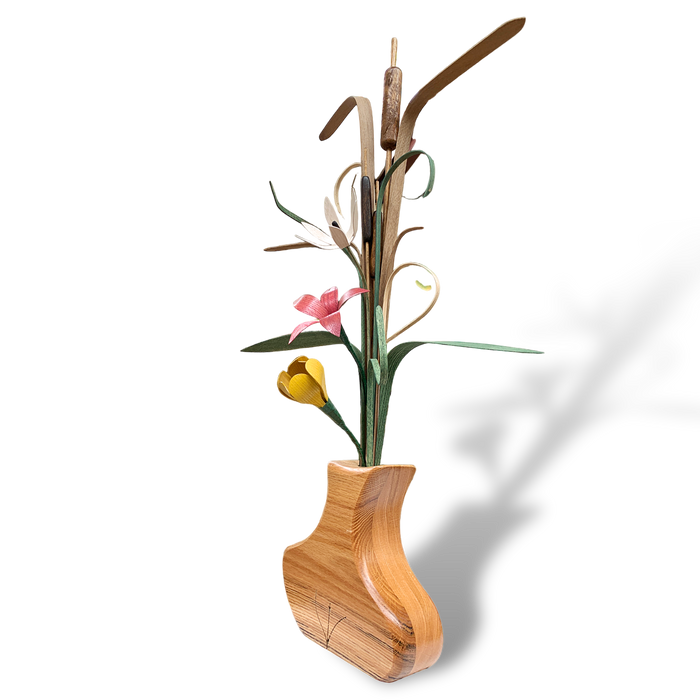 Wildflower Wood Tabletop Arrangement
Original price
$0.00
-
Original price
$0.00
Introducing our popular Wood Tabletop Floral Arrangement, a true masterpiece of art and craftsmanship. This elegant arrangement features wooden flowers, grasses, and leaves meticulously depicting the wildflowers found in the Upper Midwestern region of the United States. All of these exquisite elements are elegantly displayed within a graceful oak vase, boasting fluid and captivating lines.
The creation of this arrangement is a labor of love, as wet wood is painstakingly manipulated to recreate the bountiful beauties of forests, meadows, and wetlands. Within this wood arrangement, you'll find representations of Dog's Tooth (white), Marsh Five Fingers (red), and Indian Buttercup (yellow) among the grasses and leaves.
What truly sets this arrangement apart is its everlasting nature. These wooden wonders will remain as beautiful as the day they were crafted, allowing you to enjoy the essence of nature's treasures in your home for a lifetime. Bring the timeless charm of the outdoors into your living space with our Wood Tabletop Floral Arrangement.
PRODUCT DETAILS:
27" x 14" x 3"
Real oak wood veneer (flowers, leaves and grass)
Solid Red Oak (vase)
Everlasting flowers will not fade
Handmade in the USA
Shipped assembled unless unassembled is requested
Our Wood Tabletop Flower Arrangement is a timeless gift that will be treasured for years to come. Order yours today!